This program happened in the past, and no dates are currently scheduled.
Select this button to navigate the sections of this page
Partners and Sponsors
This program is a continuing education service of Penn State College of Medicine, in partnership with Penn State Bone and Joint Institute and CPRS Physical Therapy.



Purpose and Overview
The purpose of this event is to update health care providers on conditions commonly encountered in the care of high school and college athletes.
Audience
Athletic trainers
Nurse practitioners
Orthopaedic surgeons
Physical therapists
Physician assistants
Physicians
Agenda
7 a.m. | Registration
7:45 a.m. | Welcome/Introductions
8 a.m. | Ankle Sprains – Pearls, Pitfalls and Hidden Lesions
(EBP credits)
Mike Aynardi, MD
Penn State College of Medicine/Penn State Health
8:35 a.m. | Marijuana and Cannabis – The Effects on an Athletic Population
(EBP credits)
Rory Tucker, MD
Lindsay Lafferty, MD
Aman Dhawan, MD
Penn State College of Medicine/Penn State Health
9:10 a.m. | Environmental Challenges in Sports Medicine
(EBP credits)
Matthew Silvis, MD
Penn State College of Medicine/Penn State Health
9:45 a.m. | Break
10 a.m. | Hydration/Fluid Balance
(EBP credits)
Cayce Onks, DO
Penn State College of Medicine/Penn State Health
10:35 a.m. | Preparing for the Next Pandemic: Lessons Learned from COVID 19
(EBP credits)
Matthew Silvis, MD
Scott Lynch, MD
Penn State College of Medicine/Penn State Health
11:10 a.m. | Vaping
Eldra Daniels, MD
Jayson Loeffert, MD
Penn State College of Medicine/Penn State Health
Noon | Adjournment
Course Director and Academic Coordinator
Robert Gallo, MD, MHA
Assistant Professor, Orthopaedics and Rehabilitation
Penn State Bone and Joint Institute
Director of Sports Medicine Service
Penn State Health Milton S. Hershey Medical Center
Penn State College of Medicine
Lynn Brumbach, MA, LAT, ATC
Education Coordinator
Certified Athletic Trainer
Family Practice Center/CPRS Physical Therapy
Red Land High School
Committee
Jeff Shields, MEd, LAT, ATC, CEAS
Director of Athletic Training Services
Family Practice Center/CPRS Physical Therapy
Central Dauphin High School
Credit
AMA
Penn State College of Medicine is accredited by the Accreditation Council for Continuing Medical Education (ACCME) to provide continuing medical education for physicians. Penn State College of Medicine designates this live activity for a maximum of 3.5 AMA PRA Category 1 Credit(s). Physicians should claim only the credit commensurate with the extent of their participation in the activity.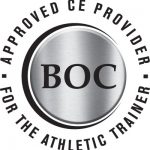 BOC
Penn State University (BOC AP# P2856) is approved by the Board of Certification, Inc. to provide continuing education to Athletic Trainers. This program is eligible for a maximum of 3 EBP Category hours/CEU. and .75 Category A.
ATs should claim only those hours actually spent in the educational program.
Physical Therapy (PT)
Application has been made to the Pennsylvania State Board of Physical Therapy for continuing education credits.
Fees
$60 for physicians, physical therapists and advanced practice clinicians
$25 for athletic trainers
Note: Athletic trainers wishing to receive physical therapy credit must pay the full fee of $60.
Fee includes cost of instruction and online handout materials.
Registrations received after Aug. 4, 2020, will incur a $25 late fee.
Cancellations received after July 29, 2020, will be assessed a $25 processing fee.
No refunds will be made for cancellations that are received after Aug. 2, 2020.
Evaluation
A completed evaluation is required in order to receive a certificate for attending this activity. Please complete and submit the evaluation within the specified time frame.
Cancellations
The University reserves the right to cancel or postpone any course or activity because of insufficient enrollment or other unforeseen circumstances. If a program is canceled or postponed, the University will refund any program registration fees paid but cannot be held responsible for any related costs, charges or expenses, including cancellation/change charges assessed by airlines or travel agencies.
Program registrants who are experiencing illness or have been exposed to anyone who is ill should contact the Continuing Education office before attending any in-person activities.
Changes
Content and speakers for all programs are subject to change. Registrants will be notified of any significant updates.
Access (ADA)
Penn State encourages people with disabilities to participate in its programs and activities. Participants who anticipate needing any type of special accommodation or who have questions about the physical access provided should contact Continuing Education at least one week in advance of participation or visit.
Disclosure and Conflict of Interest (COI and Educational Balance)
It is Penn State policy to ensure balance, independence, objectivity and scientific rigor in all educational programs. Faculty and course directors have disclosed relevant financial relationships with commercial companies, and Penn State has a process in place to resolve any conflict of interest. Complete faculty disclosure will be provided to program participants at the beginning of the activity.
University Nondiscrimination Policy
This publication is available in alternative media on request. The Pennsylvania State University is committed to the policy that all persons shall have equal access to programs, facilities, admission and employment without regard to personal characteristics not related to ability, performance or qualifications as determined by University policy or by state or federal authorities. It is the policy of the University to maintain an academic and work environment free of discrimination, including harassment. The Pennsylvania State University prohibits discrimination and harassment against any person because of age, ancestry, color, disability or handicap, genetic information, national origin, race, religious creed, sex, sexual orientation, gender identity or veteran status and retaliation due to the reporting of discrimination or harassment. Discrimination, harassment or retaliation against faculty, staff or students will not be tolerated at The Pennsylvania State University. Direct all inquiries regarding the Nondiscrimination Policy to the Affirmative Action Director, The Pennsylvania State University, 328 Boucke Building, University Park, PA 16802-5901; 814-863-0471 (TTY). US M.Ed. F6578