This program happened in the past, and no dates are currently scheduled.
Select this button to navigate the sections of this page
Guest Speaker
Lew Schon, MD, FACS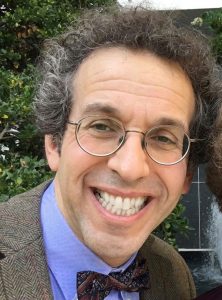 Lew Schon, MD, FACS, has ben an orthopaedic surgeon specializing in disorders of the foot and ankle at MedStar Union Memorial Hospital (MUMH) in Baltimore, MD, for the last 27 years. There, he directs the Foot and Ankle Fellowship and is founder of the Orthobiologic Lab that focuses on musculoskeletal translational biology and biomedical engineering. As a faculty member of MUMH and associate professor at both Johns Hopkins and Georgetown universities, he takes an active role in training orthopaedic surgery residents.
Biomechanics, orthobiologics and clinical studies have resulted in more than 130 peer-reviewed papers and more than 80 other publications. He has received many research grants including several from the Maryland State Stem Cell Foundation and the American Orthopaedic Foot and Ankle Society (AOFAS). His work has earned him awards including the 2012 Johns Hopkins University Professors Award for Excellence in Teaching, AOFAS Humana Award, AOFAS Roger Mann Award, AOFAS Goldner Award, the MUMH Golden Apple Award and the 2015 JHU BME Clinical Innovator Award.
Audience
This program is designed for physicians, PhDs, physician assistants, nurse practitioners, nurses and residents.
Objectives
Upon completion, participants should be able to:
Describe the anatomic components that contribute to gait function: joint, bones, ligaments, tendons, muscles, vessels and nerves.
Evaluate the repair, reconstructive and alternatives to address dysfunction of the lower extremity.
Recognize the complex goals of complete limb reconstruction that result in an improvement in ambulation.
Credit
Penn State College of Medicine is accredited by the Accreditation Council for Continuing Medical Education (ACCME) to provide continuing medical education for physicians.
Penn State College of Medicine designates this live activity for a maximum of 5 AMA PRA Category 1 Credit(s). Physicians should claim only the credit commensurate with the extent of their participation in the activity.
Agenda
7:15 a.m. to 2 p.m.
7:15 a.m. | Check-In and Continental Breakfast
7:45 a.m. | Opening Remarks
Kevin P. Black, MD
8 a.m. | Gait Salvage Through Limb Reconstruction
Lew Schon, MD, FACS
9 a.m. | Comparing Indoor and Outdoor Running Biomechanics Using Drone Video Capture
Lindsay Lafferty, MD
9:20 a.m. | Achilles Tendon Lever Arm as a Determinant of Locomotor Function
Stephen Piazza, PhD
9:40 a.m. | Stabilization of Proximal Interphalangeal Arthrodesis of Lesser Toes Using Kirschner Wire (K-wires) vs. Implants: A Comparative Biomechanical Cadaveric Study
Shane Rothermel, MD
10 a.m. | Break
10:20 a.m. | Quantitative Assessment of Type-1 Collagen in Charcot Neuroarthropathy with use of Harmonic Generation and Multiphoton Microscopy
Chris Arena, MD
10:40 a.m. | Prognostic Risk Factors for Complications Associated with Tibiotalocalcaneal Fusion with Nail
Ryan Callahan, DO
11 a.m. | The Creation of Acute Deformity to Solve Soft Tissue Problems in Trauma
C. Brian Toney, MD
11:20 a.m. | Fractures of the Tibial Plafond: Does the Presence or Absence of a Fibular Fracture Predict Future Morbidity?
Zain Mirza, MD
11:40 a.m. | Intraoperative Fluoroscopic Assessment of Proper Prosthetic Radial Head Height
Casey Kiser, MD
Noon | Lunch
12:40 p.m. | Self-reported Outcomes of Patients Undergoing Revision Carpal Tunnel Surgery with and without Hypothenar Fat Pad Transposition
Greg Pace, MD
1 p.m. | A Prospective, Randomized, Double-Blinded Controlled Trial Comparing Ibuprofen and Acetaminophen vs. Hydrocodone and Acetaminophen for Soft Tissue Hand Procedures
Kent Weinheimer, MD
1:20 p.m. | The Use of Shear Wave Elastography in Evaluating the Mechanical Properties of Ulnar Collateral Ligament (UCL) Elbow Injuries in Baseball Players
Andrew Gambone, MD
1:40 p.m. | Bringing Together the Female Athlete Triad and Relative Energy Deficiency in Sport
Kyomi Goto, MD
2 p.m. | Program Evaluation and Adjournment
For a printable PDF brochure about this program, please email continuinged@pennstatehealth.psu.edu.
Faculty
Invited Faculty
Lew Schon, MD, FACS
Director of Foot and Ankle Fellowship
Chief of Foot and Ankle Division and Orthobiologic Laboratory
Department of Orthopaedic Surgery
MedStar Union Memorial Hospital
Stephen Piazza, PhD
Professor
Kinesiology, Mechanical Engineering and Orthopaedics and Rehabilitation
Penn State College of Medicine
State College
Penn State Health Faculty
Penn State Health Milton S. Hershey Medical Center
Penn State College of Medicine
Chris Arena, MD
PGY 4 Resident
Orthopaedics and Rehabilitation
Kevin P. Black, MD
Professor and C. McCollister Evarts Chair
Orthopaedics and Rehabilitation
Ryan Callahan, DO
Foot and Ankle Fellow
Orthopaedics and Rehabilitation
Andrew Gambone, MD
Sports Medicine Fellow
Orthopaedics and Rehabilitation
State College
Kyomi Goto, DO
Primary Care Sports Medicine Fellow
Orthopaedics and Rehabilitation
State College
Casey Kiser, MD
Chief Resident
Orthopaedics and Rehabilitation
Lindsay Lafferty, MD
Primary Care Sports Medicine Fellow
Family and Community Medicine
Zain Mirza, MD
Chief Resident
Orthopaedics and Rehabilitation
Greg Pace, MD
PGY 3 Resident
Orthopaedics and Rehabilitation
Shane Rothermel, MD
PGY 3 Resident
Orthopaedics and Rehabilitation
C. Brian Toney, MD
Trauma Fellow
Orthopaedics and Rehabilitation
Kent Weinheimer, MD
Chief Resident
Orthopaedics and Rehabilitation
Fee
There is no fee for this program, but registration is required.
Cancellation
The University may cancel or postpone any course or activity because of insufficient enrollment or other unforeseen circumstances. If a program is canceled or postponed, the University cannot be held responsible for any related costs, charges, or expenses, including cancellation/change charges assessed by airlines or travel agencies. Preregistered participants will be notified if a program is filled or canceled.
Sponsor
This program is a continuing education service of Penn State College of Medicine.
About the Buchanan Lecture
The Buchanan Lecture was established in 1990 to honor the memory of James Robert "Buck" Buchanan, MD. Buck had achieved the rank of associate professor in the Division of Orthopaedic Surgery and became an internationally respected investigator in calcium endocrinology and metabolic bone disease by the time his short career ended.
Dr. James "Buck" Buchanan was a graduate of Swarthmore College and The College of Medicine of the University of Maryland. After completing his orthopaedic residency here at Penn State, he joined the orthopaedic faculty.
His active clinical practice combined general orthopaedics and hand surgery. In the laboratory, he applied an interest in vitamin D metabolism to the problem of postmenopausal osteoporosis. His pioneering work in this field earned him several research grants and invited lectureships throughout this country and abroad.
Buck was a true renaissance man. Interest in any subject seemed to lead inevitably to expertise. He was simultaneously a clinician, a teacher, an authority on the world's finest restaurants, a wine connoisseur, a professional-level pianist, a brilliant wit, and to those who knew him, a valued husband, father and friend.
Access (ADA)
Penn State encourages persons with disabilities to participate in its programs and activities. If you anticipate needing any type of special accommodation or have questions about the physical access provided, please contact Continuing Education at least one week in advance of your participation or visit.
Changes
Content and speakers for all programs are subject to change. Registrants will be notified of any significant updates.
Disclosure and Conflict of Interest (COI and educational balance)
It is our policy to ensure balance, independence, objectivity, and scientific rigor in all of our educational programs. Faculty and course directors have disclosed relevant financial relationships with commercial companies, and Penn State has a process in place to resolve any conflict of interest. Complete faculty disclosure will be provided to program participants at the beginning of the activity.
University Nondiscrimination Policy
This publication is available in alternative media on request. The Pennsylvania State University is committed to the policy that all persons shall have equal access to programs, facilities, admission, and employment without regard to personal characteristics not related to ability, performance, or qualifications as determined by University policy or by state or federal authorities. It is the policy of the University to maintain an academic and work environment free of discrimination, including harassment. The Pennsylvania State University prohibits discrimination and harassment against any person because of age, ancestry, color, disability or handicap, genetic information, national origin, race, religious creed, sex, sexual orientation, gender identity, or veteran status and retaliation due to the reporting of discrimination or harassment. Discrimination, harassment, or retaliation against faculty, staff, or students will not be tolerated at The Pennsylvania State University. Direct all inquiries regarding the Nondiscrimination Policy to the Affirmative Action Director, The Pennsylvania State University, 328 Boucke Building, University Park, PA 16802-5901; tel 814-863-0471/TTY. US M.Ed. B6313