This program happened in the past, and no dates are currently scheduled.
Select this button to navigate the sections of this page
Save the Date
Purpose/Overview
Cushing disease/syndrome is a relatively rare condition resulting from adrenal cortisol overproduction. It is associated with significant morbidity (e.g., venous thromboembolism, myocardial infarction, stroke, peptic ulcers, fractures and infections) and increased mortality. Early diagnosis is critical; however, many of the early clinical manifestations of Cushing, such as obesity, hypertension, diabetes and fatigue, are common among the population at large. Screening everyone who presents with these common conditions is not practical or cost-effective, so it is challenging to identify which patients to screen. Consequently, in many patients with Cushing, the diagnosis is either delayed or missed, with disastrous clinical outcomes. Awareness of which clinical clues should raise the suspicion of Cushing will inform which patients should be screened, leading to an early diagnosis and treatment.
Audience
This activity is designed for physicians in family medicine, internal medicine and obstetrics and gynecology. Advanced practice providers, resident physicians and medical students will also benefit from attending this activity.
Highlights
This activity is presented with philanthropic support from the Cushing's Disease Awareness Fund, established by grateful patient Marie Conley in 2018. Marie was an active professional with a busy family life when she suddenly began to experience multiple seemingly unrelated health issues over a two-year period: a fractured hip, significant weight gain and pneumonia. It took ten specialists and hundreds of tests to finally diagnose Marie with the rare disease known as Cushing's. To help other patients facing the same diagnosis, Marie established the Cushing's Disease Awareness Fund at Penn State Health and Penn State College of Medicine to educate medical professionals and students to recognize the complex symptoms of Cushing's Disease.
Agenda
3:30 p.m. | Check-In
3:55 p.m. | Welcome
4 p.m. | Cushing's Syndrome: When and How To Test
Lynnette Nieman, MD

Objectives

Compare and contrast the screening tests for Cushing's syndrome to individualize each patient's evaluation.
Differentiate between signs and symptoms that are common in the general population and those that are most specific to Cushing's syndrome.

5 p.m. | Adjournment
Presenter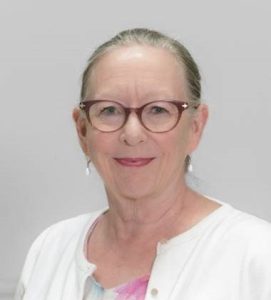 Lynnette Nieman, MD
Senior Investigator
Chief, Endocrinology Consult Service
National Institute of Diabetes and Digestive and Kidney Diseases (NIDDK)
National Institutes of Health
Recipient of the Sidney H. Ingbar Distinguished Service Award
This award recognizes distinguished service to the Endocrine Society and the field of endocrinology. Nieman is a senior investigator at the National Institutes of Health (NIH), where she served as the associate program director of the Inter-Institute Endocrinology Training Program for 12 years and is currently chief of the Adult Endocrinology Consult Service. Her research focus is on adrenal gland disorders and disorders of female reproduction. She has contributed to the diagnosis and differential diagnosis of Cushing's syndrome and phase II/III studies of ulipristol acetate, leading to the European Medicines Agency's (EMA) approval for the treatment of fibroids and the U.S. Food and Drug Administration and the EMA's approval for emergency contraception. For over 25 years, she has held leadership positions at the Endocrine Society, most notably as Society President in 2017-2018. During her presidency, she led the Strategic Plan and Governance Task forces that created the Endocrine Society's current fourth Strategic Plan and revised its Governance structure. She has served on numerous committees, including chairing the Annual Meeting Steering Committee and the Clinical Endocrinology Update Committee. She was a member of the Nominating Committee, the Publications Core Committee, and the Research Affairs Core Committee. She was also an associate editor of The Journal of Clinical Endocrinology & Metabolism. She is currently the chair of the Society's Clinical Practice Guideline Task Forces for the diagnosis and treatment of Cushing's syndrome.
Credit
Penn State College of Medicine is accredited by the Accreditation Council for Continuing Medical Education (ACCME) to provide continuing medical education for physicians.
Penn State College of Medicine designates this live activity for a maximum of 1 AMA PRA Category 1 Credit(s). Physicians should claim only the credit commensurate with the extent of their participation in the activity.
Fee
There is no fee, but registration is required.
Evaluation
A completed evaluation is required in order to receive a certificate for attending this activity. Please complete and submit the evaluation within the specified time frame.
Cancellations
The University reserves the right to cancel or postpone any course or activity because of insufficient enrollment or other unforeseen circumstances. If a program is canceled or postponed, the University will refund any program registration fees paid but cannot be held responsible for any related costs, charges or expenses, including cancellation/change charges assessed by airlines or travel agencies.
Program registrants who are experiencing illness or have been exposed to anyone who is ill should contact the Continuing Education office before attending any in-person activities.
Changes
Content and speakers for all programs are subject to change. Registrants will be notified of any significant updates.
COVID-19
On-campus educational activities provided by Penn State College of Medicine Continuing Education are required to follow healthcare facility guidelines. Off-campus events provided by Penn State College of Medicine Continuing Education follow the COVID-19 requirements of that venue. We ask that all participants respect that some attendees may still choose to wear masks for activities. Check the venue website for the latest requirements and recommendations. Please do not attend this activity if you have symptoms or have been exposed to someone with COVID-19. By attending the activity, you attest that you do not have any symptoms suggestive of COVID-19, which may include fever, cough, shortness of breath, sore throat, loss of taste, loss of smell or any other sign of illness.
Access (ADA)
Penn State encourages people with disabilities to participate in its programs and activities. Participants who anticipate needing any type of special accommodation or who have questions about the physical access provided should contact the Continuing Education office at least one week in advance of participation or visit.
Disclosure and Conflict of Interest (COI and Educational Balance)
It is Penn State policy to ensure balance, independence, objectivity and scientific rigor in all educational programs. Faculty and course directors have disclosed relevant financial relationships with commercial companies, and Penn State has a process in place to mitigate any conflict of interest. Complete faculty disclosure will be provided to program participants at the beginning of the activity.
University Nondiscrimination Policy
This publication is available in alternative media on request. The Pennsylvania State University is committed to the policy that all persons shall have equal access to programs, facilities, admission and employment without regard to personal characteristics not related to ability, performance or qualifications as determined by University policy or by state or federal authorities. It is the policy of the University to maintain an academic and work environment free of discrimination, including harassment. The Pennsylvania State University prohibits discrimination and harassment against any person because of age, ancestry, color, disability or handicap, genetic information, national origin, race, religious creed, sex, sexual orientation, gender identity or veteran status and retaliation due to the reporting of discrimination or harassment. Discrimination, harassment or retaliation against faculty, staff or students will not be tolerated at The Pennsylvania State University. Direct all inquiries regarding the Nondiscrimination Policy to the Affirmative Action Director, The Pennsylvania State University, 328 Boucke Building, University Park, PA 16802-5901; 814-863-0471 (TTY). US M.Ed. D6945